Fishing is a popular pastime that has been enjoyed by humans for thousands of years. It provides a sense of relaxation, excitement, and the thrill of the catch. However, fishing can be frustrating when you don't catch anything despite spending hours on the water. One possible solution to this problem is to use a fishing swivel snap.
A fishing swivel snap is a small device that can be attached to the end of your fishing line. It consists of a swivel that rotates freely and a snap that allows you to quickly attach and detach your lure or bait. Fishing swivel snaps come in various sizes and strengths, and they can be made of different materials such as stainless steel, brass, or nickel.
So, why are fishing swivel snaps so important for catching more fish? Let's take a closer look at the benefits they offer.
1.Reducing Line Twist
One of the main benefits of using a fishing swivel snap is that it reduces line twist. When you cast your line and reel it back in, the movement of the lure or bait causes the line to twist. Over time, this can lead to tangles and knots that make it difficult to cast and retrieve your line. Using a swivel snap allows the lure or bait to spin freely, which reduces the amount of twisting that occurs.
2.Changing Lures Quickly
Another advantage of using a fishing swivel snap is that it allows you to change lures quickly and easily. Instead of having to tie and untie knots every time you want to switch lures, you can simply clip on a new one. This saves time and makes it more convenient to experiment with different lures until you find the one that the fish are biting.
3.Preventing Line Breakage
Fishing swivel snaps also help prevent line breakage. When a fish bites your lure or bait, it will often make a sudden, powerful movement in an attempt to escape. This can put a lot of stress on your line, and if it's not strong enough, it can break. The swivel snap helps absorb some of this shock and distributes the force more evenly, reducing the risk of line breakage.
4.Better Presentation
Finally, using a fishing swivel snap can help you achieve a better presentation of your lure or bait. By allowing it to spin and move more naturally in the water, you can create a more realistic and enticing action that will attract more fish. This is especially important when fishing for species that are picky eaters or easily spooked.
In conclusion, using a fishing swivel snap is an effective way to improve your chances of catching more fish. It reduces line twist, allows you to change lures quickly, prevents line breakage, and provides a better presentation of your lure or bait.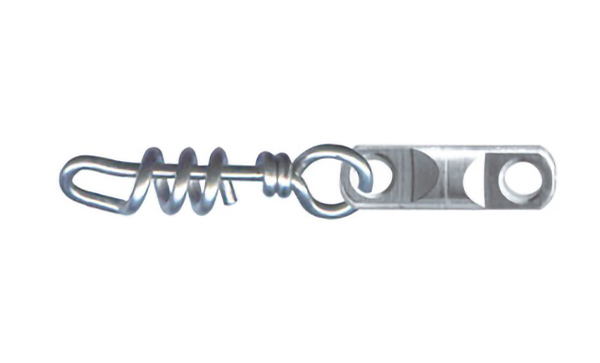 Heavy swivel with screwed snap fishing tackle accessories
Material: Brass + stainless steel
Color: Black nickel, white nickel, pickled
Features:
With the feature of heavy-duty swivel, this snap is designed to be reinforced.
The snap is made of imported super-strength stainless steel with excellent elasticity;
Resistant to various corrosive forces more than 1 time stronger than common snaps;
Wide range of applications, with double insurance to prevent the accessories from falling off, no hurting to the line.